Nov 11, 2016
Comments Off

on Portrait of Messi as a Young Man (excerpt)
Excerpt from Mexican writer Juan Villoro's God is Round, translated by Thomas Bunstead (Restless Books, 2016)
CHILDHOOD PREFIGURATIONS
Not long before taking part in his first final in youth competitions, Lionel Messi got locked in a bathroom. The child whom no defender was able to stop found himself up against a broken lock. The match was about to get underway and Leo banged and banged on the door, but no one heard him. The trophy for winning this particular championship was the greatest imaginable: a bicycle.
Some would have given in to tears and resignation, and others would have been pleased to get out of the match. Leo smashed the window and jumped out. When he went out onto the pitch it was with the feeling that no one could stop him. He scored a hat trick in that final. The genius had his bicycle.
Messi's destiny has happened at least twice. He was born to Celia and Jorge in Rosario, in the Argentinian province of Santa Fe, on Saint John's Day in 1987, but his coming was foreshadowed at the discussions around the "goodman's table" at the El Cairo café, presided over by the great cartoonist and writer Roberto Fontanarrosa. Argentina is a veritable factory of talented players, each of them already dreamed up by the most talkative storytelling fans on the planet.
After reading Macedonio Fernández's assertion that to live is a matter of distracting oneself from dying, Fontanarrosa wrote the short story "An Argentinian's Heaven," in which a few friends have a barbecue and talk about football. Then they suddenly notice that they're dead. And this makes them all very happy; if they've died and they're there eating barbecued meat and discussing the match, that means they must be in heaven.
Rosario is the city of César Luis Menotti and Marcelo Bielsa, two of the great pitchside rhetoricians. Nowhere else in the world are there two sets of fans with such unswerving bitterness. Not for nothing do they accept their own disparaging nicknames: Rosario Central being known as the Canallas or "Scum," and Newell's Old Boys the Leprosos—"Lepers." I once mentioned to a taxi driver in Buenos Aires that I'd been to a match between Boca Juniors and River Plate. "That's nothing," he said. "We really hate each other." Clearly he was from Rosario.
If the spirit of Pamplona is expressed in the San Fermín running of the bulls and that of Rio de Janeiro in Carnival, in Rosario it's the unique ritual of Poy's Dove. On the December 19, 1971, the Rosario Central striker Aldo Pedro Poy, leaped into the air to head the ball past the Newell's keeper. They repeat that glorious moment every December 19. "I don't have any problem 'doing the deed,' " said Poy in his retirement. "The thing now is getting it up to begin with."
In the city of Che Guevara, Fito Páez, and other nonconformists, Lionel Messi was only five when he began to dazzle with a ball at his feet. He had a unique ability, but one that was also the fulfillment of a collective dream.
Leo first turned out for Grandoli, the team of his local barrio. The first man to train him was Salvador Aparicio. At sixty years of age, any number of colts had passed through Aparicio's paddock. The tiny child didn't look much, but when Aparicio saw him on the ball, his only technical advice to the others was "Kick him!" Messi could run the length of the pitch without the ball leaving his feet.
The Flea wasn't so much a little goal machine as a "hook," which is to say a gale that blew through the pitch, clearing adversaries out of the way so that one of his teammates could get on with the task—historically considered vulgar in Argentina—of putting the ball in the back of the net.
Videos from the time show a bonsai version of the current-day Messi: the same brilliance at making surging runs, the same sudden change of pace, and the same unbridled joy when he scored. As the Mexican psychoanalyst Santiago Ramírez put it: "One's fate is contained in childhood."
When he was eight his classmates lined him up in the middle in the school photo. His charisma was based on his feats with the ball, but also on that mischievous glint in his eye. A shy boy, he wasn't in fact that much of a prankster, but he had the waggish manner of someone who is always thinking up pranks.
His mother says he was spoiled, and there's nothing to suggest he hasn't always had people's affection. But that didn't mean destiny wouldn't have a few tests in store for him.
Messi's whole life has been a question of scale. He was eight when his parents began worrying about his size. Tests revealed that he lacked a certain growth hormone. There was a treatment, but it cost an utterly unaffordable fifteen hundred dollars a month. Two companies in Rosario lent their support, and Leo began having to inject himself once a day, showing a presence of mind you don't usually associate with children under the age of ten. From then on, the only thing that has outweighed his skill has been his determination.
After two years the money for the injections dried up. Newell's Old Boys refused to shoulder the cost, and the Messi family traveled to Buenos Aires to see if River Plate would take him on. He was the smallest amongst the children trying out and the last to be introduced into the match; there were only two minutes to go but Leo still managed to make his mark. "Who's the father?" asked the youth coach in charge that day. Jorge Messi stepped forward. "He stays," said the coach.
But he never won a contract. The club with the red stripes didn't want to enter into negotiations over the transfer with Newell's, or take on the medical costs, for a player of indisputable talent but no guarantees as to what he might become.
Rosario is where Messi would have liked to stay, there where the slow ships advance up the River Paraná, and it was where his friends were, where they would all celebrate "Leper Day" together. Sentimental bonds are good for a football player. There's nobody more motivated—or anything more scarce—than a player who is also a fan of the team he plays for.
Juan Román Riquelme was one of the game's great stay-homers; he felt at home in Boca's pulsating stadium, and when he put on another team's colors all his powers deserted him. Messi wanted to stay on, too, but his fate was to become a nomad in extremis, at the opposite end of the spectrum from Riquelme.
He crossed the seas in 2000 to try out with Barcelona. The blaugrana are "more than a club." Did that mean they would adopt this curious Rosario great, this boy?
On arrival in Catalonia, there were complications. The coach, Carles Rexach, was away in Sydney. Leo and his father sat tight for a fortnight in a hotel overlooking the Plaza de España. They got to know the local area better than they would have liked,and began casting envious glances at the blue airport shuttle bus. They didn't want to stay on and were on the verge of heading home when they got the message: Rexach would be back the following day.
They say that when Rexach was coaching teams in Japan, he was so laid back he was never sure which of the two sides playing was his. On the day of the appointment with the Messis, he arrived late and with his usual distracted air. He easily spotted the miniature Argentinian out on the pitch. "Sign him up," he said, without a moment's hesitation. And he wasn't a man to doubt. "He spent fifteen days in Barcelona," said Rexach, "and one would have been enough!"
To put the family's mind at ease, the coach signed the thinnest "contract' in football. On December 14, 2000 he took a napkin from the bar and wrote a promise to watch over the boy. As a document it had as much legal force as the multitudinous prayers uttered at Montserrat, Catalonia's sacred mountain, and is today housed in the office of Josep Maria Minguella, the recruitment manager, on display as an extremely valuable piece of popular art.
On March 1, 2001 a proper contract was signed, and the Messi family moved to Barcelona to support the Flea.
One of the greatest challenges in the life of a professional footballer is dealing with so much solitude; an eternity of tedium in hotel rooms needs dispatching. The situation is exacerbated when the player in question is very young and far from home. Deprived of his usual pastimes and his mother's cooking, Leo discovered Barcelona to be a place as boring as sucking nails.
His siblings also began to feel depressed, and the mother decided to take them back to Argentina. Leo stayed there with his father, in a city where at the time another foreigner was growing older: the albino gorilla Snowflake.
THE IMPORTANCE OF STAYING ON
Messi was a supreme natural talent, but the history of the game is littered with talented players who never made it. Was it worth staying on in Barcelona, far from family, with no guarantees about how things would pan out? Sometimes Leo shut himself in the bathroom so he could cry without his father seeing him.
One evening Jorge Messi decided he'd had enough and suggested they head home. Another door appeared to be shutting on the player's career. But at the age of thirteen Leo was already a specialist in adversity. The boy who escaped through a window to win his first title said he wanted to stay on; everyone they knew was in Rosario, but Barcelona had La Masía, the football academy that had produced Xavi, Iniesta, and Guardiola.
Incapable of socializing, Leo was always the last to arrive in the cafeteria and would sit over to one side where he didn't have to talk to anyone. He tried to avoid the fish and salad they served and took all the time in the world over the things he liked (the meat, the chips, any kind of pasta). Leonardo Faccio, who managed to write a very interesting book about this near-unexplorable character, said this: "Without the ball at his feet, Leo Messi resembles a clone of the electrifying player we all know and love—with the batteries taken out. A poor representative of who he really is." And this was true from his very first day at La Masía, where he would light up the pitch and then, away from it, show signs of distraction and boredom.
Rexach was generous enough to sign a player who would never play for him. He didn't stay on long enough to see Messi's debut from the Barca dugout.
That honor would go to Frank Rijkaard, who had brought Messi through at a measured pace and put an arm around his shoulder after his first serious injury. After Rijkaard Messi played for Guardiola, who interpreted the value of youth in football better than any other coach; he had a profound personal knowledge of the Masía experience, of the solitary tribulations compensated by sleeping with a view of the Camp Nou from your window.
Guardiola's first-ever job at the stadium was as a ball boy, and he worked his way up from there to become the club's manager. At the start of the 2009–10 season, seeing limitations in his squad, he said, "We'll use the kids," in reference to Sergio Busquets and Pedro. With Guardiola in the dugout, Messi was sure of a place.
Twenty-six years of age at the time of writing, he has become the most admired player on the planet. Game in, game out, he demonstrates how resistant to logic this game is, how the physical is anything but the defining factor: being five foot six did nothing to stop him from scoring a winning header—beating the giant Man Utd keeper Edwin Van der Saar—in the Champions League final.
His hallmark is receiving the ball outside the area, stopping dead, starting off on a lateral scamper, leaving a couple of defenders in his wake, and having a shot. Though he also comes up with goals that have gone down as emblems of footballing craft: sealing Barca's sixth consecutive title with a chested effort and scoring against Arsenal by flipping the ball up to himself—not once but twice—in the area, before beating the bamboozled keeper.
Hernán Casciari came up with a memorable comparison: Messi is like a dog that won't let go of the sponge. Ever. Though a dog also happy to be involved in the continuous struggle for the ball. Messi pursues the ball as though there were no other thing in life, ignoring the kicks and fouls, carrying on in the direction of his only goal. Like the puppy that was happy just to be expending energy, Barca's number 10 is a complete stranger to taking a break, let alone giving in.
Sometimes referees are too mesmerized by his skill to award the fouls that come raining in, and because they believe that even if he falls, he's still able to finish off the move.
There's a documentary with Picasso painting a bull for the camera. The lines advance with unsettling virtuosity, until the work is perfect. But since the camera keeps on rolling, the artist doesn't stop there and starts adding in unnecessary details. He becomes excessive, and the director doesn't dare stop him. Who's going to interrupt a genius in a state of grace? So it is with Messi. Blowing up for a foul seems like an attack, equivalent to throwing something onstage during a concert. The opposition may be placing illegal objects in Leo's path, but the ref has been taken out altogether.
Leo Messi has taken football to belief-defying heights. Rapt, the ref becomes like us, the spectators: a mute witness to a passing sort of glory.
IS THERE ANYONE THERE?
Messi's well-known strong points contrast with the life he leads in private. This most brilliant of players seems oblivious to the thrills and spills of an imaginative inner life. He comes from a country that does melodrama better than anyone, with its tango and its high concentration of psychoanalysts, a nation where having neuroses is a way of demonstrating your eloquence and where an Under Seventeen player is quite capable of using terms like "trauma" and "taboo," and knowing what they're talking about. Yet Messi seems resistant to the mysteries of the unconscious. Someone making a TV ad tried to get inside his intimate inner world, asking what he did in the changing room before an important match. "I chew gum," came his devastating response.
And it isn't just that he's reserved, it's that he appears at peace with being silent. When he isn't on the pitch or with his girlfriend, he applies himself to a certain pastime with a monk-like dedication: the siesta. He can do a two- or three-hour stretch after lunch, and it doesn't stop him getting ten hours in at night.
Everything he does away from the pitch, he does slowly. Leonardo Faccio tells an anecdote about a party during Messi's time at primary school: one of his teachers gave him a snail costume.
A genius who celebrates his life by sleeping. This might seem strange on this exhibitionist planet of ours, where celebrities applaud their own success in the company of Slovenian models, spending time aboard yachts of tremendous length, or getting their premolars encrusted with diamonds.
The material and spiritual ambitions of Lionel Messi stretch no further than a ball at his feet, a family around him, a woman by his side, and a nice blanket to lie down under. Isn't it too, well, simple? Especially seeing as we've all bought into the dramatic pedagogical idea that talent always has its roots in some kind of pain?
The 2011 Oscars honored two films that centered on sensitive, impaired souls: The King's Speech with its stuttering King of England, and Black Swan, with its schizophrenic ballerina. We have an easier time accepting excellence if we know it originates in some kind of suffering that had to be overcome: the skater gliding along with supreme grace, though she is blind.
Some sort of torment, the wound necessary for talent to emerge, mitigates the excessive brilliance of a genius. We delight in the results and at the same time feel thankful that we didn't have to go through all the pain necessary to achieve them.
Messi, with the growth-hormone injections and the initial solitude of his arrival in Barcelona, has hardly been exempt from misery. But it still feels almost scandalous for him to be so boring before and after the whistle blows. "He can't be that normal!" complain the journalists, anxious to uncover the anomaly, the strange proclivity, the white fly, as the saying goes, nestled in the brain of the champion.
Emotional autism is one of the least serious of the charges leveled by these inquisitors. Like Forrest Gump, the Argentinian 10 is seen as a record-smashing simpleton who only needs a nod from the manager to do astonishing things on the pitch. "Run Forrest, run."
Messi goes to sleep with a book, and has no desire to see the Taj Mahal. When he had to choose a tattoo, it wasn't a Che face he went for, like Maradona, but an image of his mother. Each time he scores a goal, he points to the sky in memory of his grandmother. The horizon of his myths is formed by his family; this is what makes him normal. Is there some defect that sets him apart? Celebrities tend to dedicate themselves to consumerism—a vice we can forgive. For someone at the top of all the stats tables, what could be more normal than excess. So extreme acquisitiveness "humanizes" the famous person: he amasses an increasing number of works of art, more children, more stunning models, more classic cars and pointless hats—more of everything than his fellow beings who have a mortgage to pay.
To be normal in the recently fashionable way, Leo could employ a PR expert to buy extravagant things in his name. If only he owned sixteen life-size ceramic giraffes, all questions about his "simplicity" would cease.
Like all stars who dedicate a large part of their time to making commercials, he has a double who gets caught in the rain on camera so he can be saved from a cold. Faccio says that Leo became concerned that this alter ego, the one signing autographs and going to clubs, might be moving to center stage; he's so shy that his double has to be as well.
Save vague suggestions about the occasional orgy in his Puerto Madero apartment—something not all that strange in the primitive world of football—he's also not well known for his blowouts.
Human beings like asking themselves improbable questions that don't always have that much of a bearing on their lives: "Is there life on Mars?" "Is there a God?" "Does Messi have an unconscious?"
He's got up after so many rough tackles without complaint that it makes him seem immune to inner turbulence. But then in the summer of 2011 we began to see some unusually visceral reactions. The young lion does know how to roar.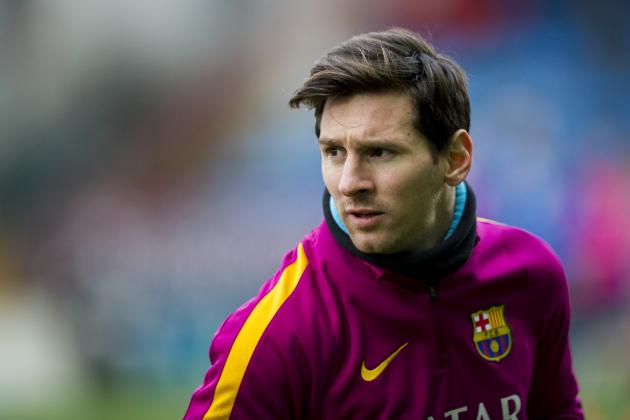 THE MYSTERY OF THE TEASPOON
After losing 5-0 in the "first leg" of the 2010-11 Real Madrid-Barca clásico, Jose Mourinho rung the tactical changes for the "return." In the run-up to this devastating loss, he'd created a wrecking ball of a team, bashing aside opponents far more quickly than the Catalan side (who always prefer delivering death by a thousand cuts).
The Portuguese is not a defensive coach. He brings out the best in every squad he manages and only parks the bus when he judges it to be the only route to victory—when he judges the opposition superior. This was what he did as manager of Inter in the 2010 Champions League semifinal they played against Barcelona.
Spain's La Liga has become a metaphor for a country in crisis; only two or three ever stand a realistic chance to coming out on top, and there are always eight or nine struggling to avoid relegation. The most intense—and democratic—passion awoken isn't about success but about saving yourself from utter disaster.
The "merengue" hurricane was tearing through teams in 2010, but no one knew if they could do the same to Barca. Partly it was a question of tactics; the azulgrana's game was based on possession of the ball, whereas this Madrid side only needed the ball for a matter of seconds to create danger. Two opposed languages faced off in the November chill. And we know what happened next: Real went out onto the pitch not only the color of ghosts, but with a similarly flimsy attitude.
Barca doled out a lesson. A rumor went around that Wayne Rooney's wife, watching the match at their home in Manchester, surprised the Man Utd player by standing and applauding the performance. "I've made peace with my profession," said the English striker, enthused by the Catalan concerto.
For the "return leg," Mourinho needed to come up with a strategy that Rooney would not celebrate. He didn't care in the slightest about the quality of the spectacle. The Portuguese's competitive streak brooks no style arguments.
A destructive game plan needs an accomplice: the ref. Many are the difficult decisions that have to be made by this troubled, sweating man. Clear leg breakers are not difficult to decide about, but other fouls, less crass, not so obviously violent, are less easy. A little tug on a shirt, a nudge to knock someone off balance, dives—none of these are direct attempts on the opposition, though they do affect them. Messi was subjected to more than ten such aggressions in each of the two matches.
César Luis Menotti has pointed out, rightly, that the principal thing that holds a game up is repeat fouls. You shouldn't have to mutilate a player to be shown a card.
The return was at the Bernebéu, and Mourinho put a defender in midfield; Pepe was charged with man-marking Messi. It was a match played in front of a safety-deposit box: not only must the Camp Nou thrashing be avoided, but football as well. In the midst of what became a foul festival, something happened that had never happened before: Leo became exasperated. Like a caged animal, he kicked a publicity hoarding. Pepe went over and, tapping his shaved head provocatively, said "Lost your mind?" The pursuer diagnosing paranoia.
But in fact Messi was very much using his head. He used it to get fed up. Whoever says he doesn't get affected by things ought to remember that moment, a moment when he was made to feel powerless.
He kicked a hoarding on another occasion, at Wembley, in his second Champions League final—though this time it was an expression of euphoria.
On May 28, 2011 he looked possessed when he wheeled away after scoring; he was impelled by an enraged, exasperated joy. He left the print of his orange boot on some commercial product or other. The treatment of Pepe the Destroyer and the nobility of Manchester United at Wembley each brought him to boiling point. His emotions aren't a terra incognita awaiting cartographers; he simply doesn't express them very often.
How to tell if someone who's usually very quiet is saying nothing because they're annoyed? Messi's interests may be limited, but he gets annoyed should any of them be obstructed. The worse thing, in his eyes, is not starting a match when he's fit. The idea that he's being "kept back" for another game makes him feel like a grandmother's dress—like he's being mothballed.
According to the El País writer Ramon Besa, when Guardiola put Messi on the bench in a match against Sevilla (the previous time they played, Barca had won 4-0), the Flea didn't show up at the following training session. Messi's teammates, Besa says, "Thought he must have had a cold, or that something unforeseen had come up. As it turned out, Messi was angry at not having been picked, and it wasn't until the following morning that the feeling passed—in the same way as it had arrived, without Messi knowing exactly why."
On another occasion, he took part in a training session with a plastic spoon in his mouth. He hadn't just left the object at the coffee bar. A strange sign. The rest of the team felt obliged to examine their consciences: Who had failed to pass him the ball? Who had accidentally injured him? Who had not won the ball back when he needed it?
When the best player on earth trains with a small spoon between his lips, alarm bells ring in the same way as when a tenor goes out to sing with a thermometer in the mouth.
After a few minutes the genius spat out the piece of cutlery. Crisis over.
The person who has best studied Lionel Messi's reactions is Pep Guardiola. I had lunch with him in December 2012, along with his great friend David Trueba and a couple of journalist friends.
Guardiola is a fan of forays out into the strange world of not-training sessions and not-press conferences—where there isn't a single objective like the match on the weekend. Though not quite as bookish as the likes of Pardeza or Valdano, he likes to know what's going on in the world and reads a fair amount. Curiously, once away from the tensions of his usual environment and in the company of friends from other professions, he returns to his perpetual theme with renewed vigor. "I was never completely happy as a footballer," he said at lunch—with everyone else in the restaurant straining to catch his words. "I worried too much, I'd vomit before matches, the whole experience was agonizing." Ever since then he's had the temperament more of a strategist than of the player making things happen on the pitch. In the days when he was still wearing number 4 on his back, Valdano characterized him as a "coach with a ball at his feet."
"You have no idea how envious I am of my players. I was never able to enjoy it like they do. They're so happy out there, I want to kill them!" Some of his players are like him in their vocation as coaches: Xavi and Busquets are both such talented tacticians they won't be out of place among the dugout-thinkers. Whereas Messi is impossible to imagine out of the team strip. He is psychologically a creature of the present, of the goals he scores after siesta. He lacks the capacities for evocation that a commentator needs, and he isn't a forward planner, as coaches need to be. What's he going to do when he hangs up his boots? Eat steak in a mansion where the most expensive piece of furniture is the sofa?
"I'll still be in the dugout when I'm sixty," says Guardiola, happy to be involved in the part of football where he feels more at ease and that doesn't last as long. That's where he watches Messi—more closely than anyone ever has. Barca's style of play is, among other things, a mechanism to free the number 10: Samuel Eto'o and Zlatan Ibrahimovic alike had to stand aside so as not to obstruct Messi's route to goal.
No one gets to be the world's best in a team sport without the complicity of teammates. Guardiola worked tirelessly to create the moves in which Messi works both as midfield axis and center forward: a number 10 mutating into a number 9.
Your average poachers have the most abrupt job in the world: they only come into play for a few seconds a game. Messi offers up a slow-burn recital on the wings but also pops up as a feinting striker to put away a pass he even laid on for himself.
Eto'o was your classic fox in the box, an overly fixed role for Barca's total style. And Ibrahimovic, for his part, was a giant used to ruling alone. In Serie A they'd each become used to providing the point of the attack, to resolving matters solo. Neither was able to adjust properly to Barca's gregarious schematic.
In the 2010–11 season, Guardiola brought in David Villa, with his Pedro-like ability to stretch a game. The center-forward area was freed up, and in Xavi and Iniesta they had two of the greatest providers ever to grace the game.
With these changes made, Messi, already the best in the game, began outdoing himself to an even greater degree. Guardiola knew how to break down the distinct phases of the Barcelona engine.
The azulgrana tactics, then, were arranged to suit Messi's strong points, something that has never happened when he's been on national duty. And yet the albiceleste have always been a strong priority for him. Leonardo Faccio reconstructs a little-known episode: the Flea lit up pitches in Spain from the moment he became the youngest player to score in La Liga (at the age of sixteen, against Albacete), but the shock waves of his talent took a long time to register for Argentina.
He was invited to play for the Spanish youth team at sixteen. According to FIFA rules, this would have barred him from ever playing for Argentina, so Messi declined. But then Argentina dragged their feet in calling him up. "It was five months between the call up from Spain and the Argentinian Federation getting in touch," says Faccio.
The story ought to ring alarm bells for anyone who criticizes Messi for a lack of identity. He hasn't lost his accent, or his Rosario ways, and plans on retiring back in that city—one he only ever left because he couldn't get medical treatment there.
But the schism between him and Argentinian fans will always be there until he wins something with the national side. He's never played for a club in his home country, and his debt to the albiceleste feels pending. Another anecdote, this time from Johan Cruyff, is illuminating on the matter: in his Ajax days, when he went out, he'd be congratulated on the streets of Holland, whereas when he moved to Barcelona, the people would thank him. His achievements were seen by his compatriots as strictly professional, whereas Barcelonans felt like he'd become one of them. Lionel Messi's Argentinian drama consists in the fact his countrymen don't yet feel able to thank him.
THE VIEW FROM THE TOP
The worst thing about success is the way it cancels out the pleasures contained in hoping and dreaming you will one day be successful. For a team whose cabinet is glutted with trophies, the hardest thing is retaining the desire. What's the point in striving for an objective you've already achieved?
When, at the beginning of the 2010–11 season, Barca lost to minnows Hércules F.C, Guardiola had to issue a wake-up call for them to continue dreaming.
"Leo needs no special motivation," he told me at the lunch. "He competes with himself; there are always new challenges." He gave a simple but very revealing example: in one training session, Busquets went in for the ball recklessly, taking Messi out and leaving him with a gashed leg. The session went on without any further incidents. In the changing room afterwards, Busquets went over to apologize, and Messi, his voice calm, pointed at the cut and gave the enigmatic answer: "This says 'Sergio Busquets.' " What did he mean? His best friends on the team, fellow Argentines Gabi Milito and Javier Mascherano, understood before the others. The Flea never forgets; there was a debt now, one he would leap across. A few days later, when everyone seemed to have forgotten the affair, Messi took Busquets out, trotting away with a mischievous smile. 1-1.
A measure of his tenacity is the targets he sets himself. When Mauricio Pochettino, in his days as manager of Espanyol, said something offhand about Messi, it just so happened that Barcelona's other team came out on the wrong end of a 5-1 drubbing in the following match. Messi celebrated a job well done by drifting over to the wing closest to the opposition dugout for the last few minutes of the game—to plant himself in Pochettino's mind for good.
And if he did need incentivizing, in the summer of 2010 along came Jose Mourinho to take the helm at Real Madrid. The effect was twofold: he motivated the merengues with his intricate conspiracy theories but also spurred on their archrivals with his constant affronts.
It was clear from the off that Mourinho hadn't come to Spain for a popularity contest. In an early press conference, he suggested that if journalists wanted to speak to a nice coach, Pep Guardiola was their man, leaving his opposite number in charge of keeping La Liga civil.
The Portuguese followed through on his promise to be thoroughly unpleasant, to such a degree that the most unfathomable thing about him is his second surname: Dos Santos—or Two Saints—though perhaps heavenly algebra is such that in fact "duplicate" saints add up to Lucifer, the fallen angel…
And Mou turned out to be just the Gatorade that Messi needed. He'd have played astonishingly well if he hadn't turned up, but the Portuguese helped him rehydrate.
The team's increasing reliance on him led to an interesting paradox. In the spring of 2011 he was in competition with Cristiano Ronaldo to be top scorer in La Liga, and there was the chance he might have fallen for the temptation of seeing goals as solo victories; Mourinho's dogged twisting of Barca's strong points helped Messi become a more mature player. His individualism remained firmly in the locker room.
Menotti has a good line on this, the collectivization of Messi's own game: "Messi learned. What soloists need to do is control the rhythm because, if not, they only disrupt the orchestra. And that's what he did: he'd pick up the ball and, every time, pluck his violin three or four times, but on occasion you'd think, 'What would have happened if he'd stepped aside just then?' And that began to become part of his thinking. He began setting other players up. There's more to him now, he takes up better positions, he'll return a pass as if to say, 'You go for it, there was nothing on for me then.' "Before he was always looking to go and win the match on his own, but not anymore. He evolved. And that's where you get a sense of the impact of the maestro: What would have happened with these players if not for Pep?"
Messi's competitiveness is borne out by one strange statistic: he commits more fouls than other technical players. In four neurotic games between Barca and Madrid, he was responsible for fourteen of his team's sixty-eight infractions, an unheard-of quota for a player of such finesse in his position.
In short, this boy-faced genius doesn't lack substance. Though it takes a little patience if you want to see them, he does have his outbursts. He might not be one to air them on crappy daytime TV, and you're not going to catch him throwing his phone out of the window, but the things that annoy him and the things he takes satisfaction in do effect his mood. What Guardiola would look out for in him, in terms of emotions, was that glint in his eye, that spark of malice; if that was there, all was well.
In South Africa 2010 he had an altogether different coach. Maradona's way in the dugout was to try and transmit his charisma: training sessions with him involved more kisses and hugs than argumentation. Intelligently enough, Maradona made Messi's roommate Verón, a veteran whose experiences might conceivably rub off. But Messi isn't out there looking to run the show. His imagination makes him a central player, but it isn't his natural setting to come up with what other players ought to do, or to make their decisions. Maradona giving him the captain's armband wasn't a favor by any means—rather, it was akin to a father taking his son to a brothel to instantly make a man of him. But the extra pressure weighed on Messi, a player who still had something childlike in his game, who appeals for support with his tattoos of mother and grandmother. Maradona offered him the historical opportunity to become his successor, but that's not Messi. He was comfortable in the Guardiola cocoon, but he withered at Maradona's shove.
The next date with destiny was Brazil 2014. Triumph there, and the facts would justify everything that had happened to date; we'd all say that Messi needed to go to the home of Argentina's greatest enemy in order to win his greatest trophy.
Leo was older now, and a more complete player. He was eighteen when, in 2005, he was named best player at the Under Twenty World Cup, and when he scored his first goal for Barcelona. On March 10, 2007, in the Bernebéu, he confirmed his place at the pinnacle, with his hat trick in the clásico.
The numbers worn by Messi attest to his path to becoming an idol. He made his debut for Barcelona with 30 on his back, became 19 as he moved up from the youth ranks, before the definitive upgrade, the number 10 made sacred by Maradona and Pelé, and that he had worn as a boy playing in the red and black of Newell's.
In 2007, against Getafe, he came up with his double of Maradona's 1986 goal against England. That feat confirmed his talent, all he had to do then was repeat it. The deluge of goals and the six titles he won with Barca in the 2008–2009 season brought him the Balon d'Or, and when he went up to collect the trophy he smiled like a child in an ice-cream shop. But he wasn't content to stop there, and in 2009–2010 equaled Ronaldo's emphatic forty-seven goals.
Other difficult-to-believe records were still to come. He became a headache for the team of the aspirin makers, Bayer Leverkusen, with his five goals against them in 2012—a Champions League high. And in the same year he broke a record that had stood for forty years: Gerd Muller's eighty-five goals in a calendar year. Messi visited "Der Bomber" with a signed shirt. Prizes have become just part of the job for Messi. It seemed in many ways quite normal that he should win the Balon d'Or four times, surpassing three-time winners Platini, Cruyff, and Van Basten in doing so.
It hit Messi hard when Guardiola left Barcelona in 2012. The coach who had done everything possible to help him realize his talent, even foregoing a center forward so that Messi could be two players at once—initiating moves as a winger and finishing them off as a striker—took a sabbatical after four grueling seasons. Grueling and successful: with Messi's assistance, he'd won fourteen of the available nineteen titles during that time.
Messi didn't attend the farewell conference because he didn't want to cry in public. But his performance level didn't dip with the master's departure, in fact he only got better under Tito Vilanova, an in-house appointment of Guardiola's right-hand man, one to carry on the project.
As well as his trademark moves, he'll also go down as having invented goals of great symbolic artifice, as in 2008–2009 when he sealed Barca's league victory with a chested goal.
On April 10, 2013, Messi revolutionized the game—again. He was injured and couldn't start in the match against Paris Saint Germain, but with Barca losing 1-0 he had to be thrown into the fray. He came on sixteen minutes into the second half, and it was a watershed; PSG waned and Barca had a resurgence. The emotional state of the stadium changed. Messi's impact, that is, goes beyond merely footballing: it is spiritual. Though he could hardly move, his presence changed things. He laid on an assist and Barca ended up drawing, good enough to see them through to the next round. It was the first time that Messi had played in soul rather than in body. It was a glimpse, in a way, of what his legacy will be; when he retires, the mere memory of him will help the team to win matches. As the Brazilian commentator Nelson Rodríguez put it: "Even ghosts have a duty to their club."
As long as he continues playing, there's no way of knowing where he'll get to. All we know is that just as no lock exists that will stop him, no defense does either.
When a child wants a bike, there's a lot he'll do to get it. When a man plays like a child who wants a bike, that's the best player in the world.